Click Here to Sign-UP with SIGNiX
Ohio Notary Services Partners with SIGNiX as its Preferred Remote Online Notary (RON) Platform Provider
Our partnership allows notaries to create new revenue streams.

For a limited time SIGNiX will offer new Ohio notaries their first five transactions FREE! This will result in a savings of a minimum of $50 just for taking advantage of the SIGNiX/Ohio Notary Services partnership.
SIGNiX's RON software solution equips notaries with the tools needed to facilitate notarizations from anywhere at any time. We believe their cloud-based platform is the solution that gives notaries in Ohio more opportunities to put RON to work and better serve their customers.
SIGNiX's eNotaryDoX provides secure remote online notarization software. Their patented digital signature technology converts the traditional notarization process to a completely electronic one so that you and your clients can use video conferencing to execute transactions.
Benefits:
Trusted by Ohio Notary Services as the preferred RON provider

Control the consistency and quality of the signing process with your notaries instead of using third party services

Increase revenue and reduce costs by using your notaries to expand your business opportunities

Standards-based digital signatures protect against tampering

Safe, convenient, and rapid alternative to in-person notarizations
"SIGNiX provides notaries with everything needed to facilitate remote online notarizations in a safe, secure, and cost-effective manner, and we are thrilled to be partnering with them," said C. Allen Nichols, Ohio Notary Services' Executive Director. "Unlike most other RON service providers, SIGNiX doesn't compete with notaries for business; rather, SIGNiX gives notaries diress tct acceo comprehensive solutions needed to conduct remote transactions and expand their business opportunities."
For a quick overview of SIGNiX take a look at this video:
For a more in-depth webinar-level examination of SIGNiX watch this video: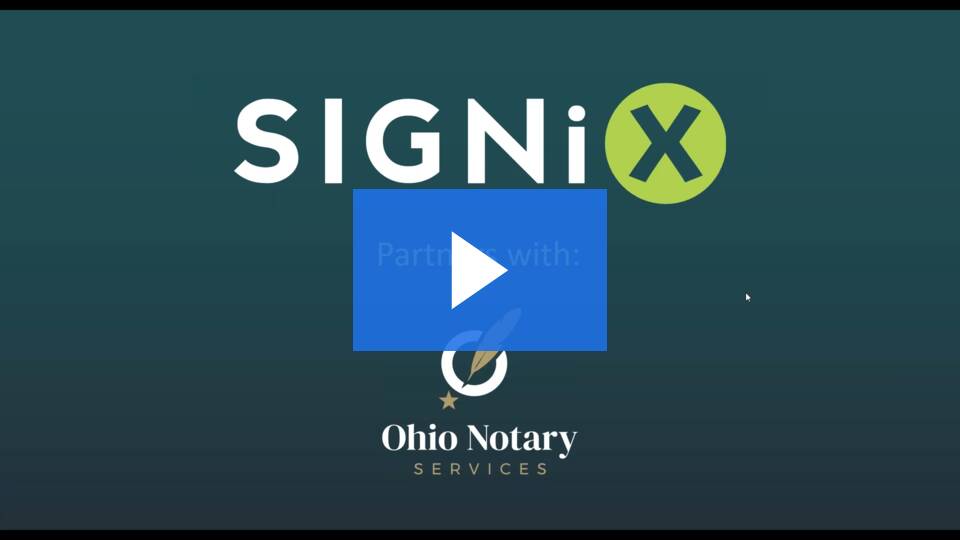 ONS Webinar - SIGNiX Digital Signatures
Click Here to Sign-UP with SIGNiX